The wedding industry can be one of the most enjoyable industries to break into, but also can be one of the toughest. After all, this is a field that is usually reliant on small teams, which getting your foot in the door often requires knowing someone or making a name for yourself off the bat. However, with the right strategy, you too can break into the wedding field and land an internship in no time. Here's how:
Study The Industry
As it goes with any industry, studying what's around will give you a scope of what you want to do it. No matter if working in weddings has always been your dream, or if this has been something that you've recently been considering, it's a lucrative field, but also an incredibly competitive one. In fact, as noted by Market Research, with $72 billion in revenue alone, this is ever constant field (after all, marriages rarely slow to a drastic rate), which means there's probably work for you. However, the hardest part is finding it.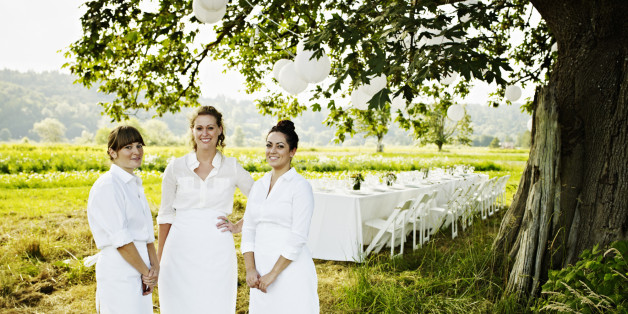 In examining your general research, the first thing you should do is start breaking everything up into different sectors. For example, do you want to work on the media side of things, with the product, or even with planning? Deciding this will help you decipher the overall direction you're trying to head, as well as how you can hone in on a target. It's important to stay open-minded during this process; for example, a company like Azazie has done a great job of community-building, showcasing real individuals wearing their wedding and bridesmaid dresses.
Know What Type Of Niche You're After
Once you've somewhat established the type of sectors you want to go after for an internship, the next step is to start seeing what type of niches exist within these parts of the industry. While you most likely have a shortlist of prospects that you're trying to approach, it's also important to remember that you shouldn't limit yourself. Every single day people get married around the world in a wide array of different ceremonies, which could lend itself to a number of different professions if you know where to look.
An excellent example if this with destination weddings, which as noted by Trip Savvy, take up approximately 25 percent of weddings. As people look to get married overseas or on opposite ends of the country, they're willing to shell out top dollar. But there are also those who can't afford such an occasion, which is where your skill set could come in. If you're able to offer popular destinations like the mountains or a beach for a fraction of the price, with enough research and persistence, you could use that as a means to fit into the industry.
Start Developing An Array Of Skill Sets
Finally, if there's one thing that's going to impress your superiors across the board, it's the skill set that you're able to bring to the table, including how that helps their business. Especially with how small a lot of wedding businesses are, having someone that's a jack of all trades can be a significant help long-term. And if you're looking to grow with a wedding company, this is a crucial step.
Although you probably have a rough idea of the skills you contribute to the industry, the ability to package them together could be what sets you apart from competitors. For example, according to Value Penguin, the average wedding photographer cost between $2,095 and $,2556 per shoot. However, if you're able to combine that with social media marketing shoots, then you'd not only have a leg up but also be able to set a price that labels you as a bargain. As noted by Social Media today, with 40 million people using Pinterest to plan their wedding, those skills could lend you some serious cash.
Looking back upon the niches that you were trying to enter in the industry, take a look around to see what type of skills those firms might need without even knowing it. It's also not a bad idea to have actual examples of the work you're trying to perform, shedding light on the insights that provide value, especially if you're planning on having a pitch. The wedding industry is one that can be fun to break into, but it's also going to take a fair amount of work to provide value. Once you do, it'll be one of the most rewarding experiences you've ever had, though.
What excites you the most about entering the wedding industry? Comment with your answers below!